FEATURED REPRINT:

Essential Tax Tips for IRAs
Summary:




Woe to the taxpayer who runs afoul of the numerous and confusing IRA rules. There are forms to file, contributions to make, distributions to take, and penalties to avoid. While corrections are possible, it's best to avoid mistakes in the first place. Here's what you need to know.




$97

(Free with Advisor/Client or Advisor/CPA Membership)

Starting from $294 (100 ct.)

($197 with Advisor/Client or
Advisor/CPA Membership)
---
Welcome to Horsesmouth's Client Reprint store.
Now With Photo and Logo…
Here you can find an ever-growing list of FINRA-reviewed Horsesmouth features specifically selected and designed for you to personalize and share with clients and prospects.
Directions: View the article samples below, then select your format, complete your personalization, and place your order.
The PDF format costs $97 and grants you a license to print and/or email and post to your website, etc. The Custom Print + PDF format costs $294 and grants you a license and 100 personalized printed copies through Horsesmouth. See Frequently Asked Questions below.
PLEASE NOTE: Members of Horsesmouth's Advisor/Client and Advisor/CPA programs get the PDF format free and the Custom Print + PDF format starting at $197 (100 ct.) when logged in. Not an Advisor/Client or Advisor/CPA member? Learn more about Advisor/Client or Advisor/CPA.
LATEST REPRINTS
The Benefits of a Client Reprint Mini-Campaign
What's great about a Client Reprint is that it's fast and easy to create a mini client or prospecting campaign around your personalized article reprint. Here are some important Client Reprint benefits: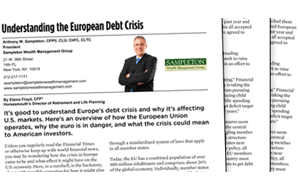 It's a hassle-free contact with a client or prospect. You can start it in five minutes and it's already FINRA-reviewed.
It demonstrates you're a client-centered, results-oriented, can-do advisor. You're always looking out for your clients.
It rekindles contact with prospects on your list. Personalized Client Reprints are perfect for a "drip marketing" campaign.
It reinforces your "Opportunity-Solutions" mindset that you have about the business of guiding clients' financial lives.
It's totally flexible. Email a PDF reprint to some prospects and clients. Post a link on your website. Mail a printed copy to key clients or prospects.
It saves you time and money. You can have your personalized Client Reprint PDF in less than 5 minutes and for as little as $97. That means you have more time for other critical and valuable things on your priority list—including spending time out of the office!
Ways to Use This Article to Support
Your Marketing and Communications Messages
Article reprints present a variety of opportunities for you to position yourself and your business as forward-thinking, innovative and up-to-date. When you license Client Reprints, here are some easy ways to use it right away:
Email a personalized PDF to all clients and ask them to read and contact you if they have any questions.
Segment your client list and send a separate, personal cover note, or post-it note, that highlights any specific issue or opportunity covered in the article.
Hand out the article at any events you're speaking at or attending.
Give a copy to each client at the end of your next face to face meeting.
When appropriate, send a copy to your CPA contacts letting them know you're sharing it with your clients.
Likewise, when appropriate, send a copy to your Estate Attorney contacts as an FYI letting them know you'd like to hear their thoughts about the topic.
Send a copy to your marketing list. Let prospects know that you're keeping your clients abreast of the topic.
Client Reprints Advantage
Timely licensed articles to present clients and prospects on pressing issues for a whole year
Branded with your personalized contact information
Available in PDF or Custom Print formats
FINRA-reviewed letter with each article
Fast, affordable mini-campaign or client contact
The Client Reprint Advantage Explained
If you're new to ordering a Client Reprint through Horsesmouth, please read below first so you can learn how it works. If you already know, start your personalization process by making a Client Reprint format selection at the bottom of the page.
FREQUENTLY ASKED QUESTIONS
What is a Client Reprint?
A Client Reprint is a specially designed and edited Horsesmouth article. Each Client Reprint is ready to be personalized with your name, contact information and compliance disclosures.
What can I do with a Client Reprint?
Client Reprints are ideal for any advisor's prospecting, marketing and communications program. Once you brand it with your personal contact information, you can share the article with clients, prospects and centers of influence in your community.
The articles in the Client Reprint library typically have been chosen because the article is important and timely. You'll find they often match your needs perfectly and are great to send with a short note or comment to the client or prospect.
What are the formats of a Client Reprint?
You have the choice of two basic formats for ordering Client Reprints—PDF and Custom Print.
When you choose PDF, you receive a personalized PDF version of the article and the license to share it with your clients and prospects. Your sharing options include sending the PDF article through email, posting it to your website, or printing out your own hard copies.
The Custom Print option through Horsesmouth gives you the most flexibility. Your articles are professionally printed in a folded, 4-page, 8.5" x 11" style. The paper is a white, heavyweight bond. You also receive a license to share the article with your clients and prospects and you receive a PDF version of the personalized article.
So you can mix up your formats, sending PDF to all clients and prospects, for instance, and sharing the hard copy with selected others. Or send PDF by email and hard copy by follow-up letter in the postal mail.
How many copies of my personalized Client Reprint article can I send?
You are authorized by your license to send an unlimited number of your personalized articles for a term of one year. If you desire to continue sending a certain article beyond one year, you simply renew the license. The articles may only display your personalized information and may not be altered or changed in any way without Horsesmouth's permission.
What does the Client Reprint license do for me?
The reason each article reprint includes a 12-month license is to ensure that you are fully compliant with the laws and regulations regarding copyright permission.
When we surveyed Horsesmouth Members, we learned that nearly 80% of advisors send articles to clients as part of their client communications program. But nearly half acknowledge that they're often non-compliant regarding obtaining copyright permission. Horsesmouth's Client Reprints license clears that up and gives you the flexibility you need to communicate with clients and the copyright permissions to back up your compliance.
Are Client Reprint articles compliance ready?
Nearly all Client Reprints have been reviewed by FINRA; you receive a copy of the review letter each time you order a Client Reprint. The letter is intended for your compliance file and to help speed your own compliance review.
How much does a personalized Client Reprint cost?
A PDF Client Reprint costs $97 for one year. Custom Print of 100 personalized articles through Horsesmouth, which include the PDF license too, costs $294 plus shipping and handling. (Higher quantities available.)
Why send a Client Reprint?
Sharing article reprints with clients and prospects is an easy and effective way to stay top of mind with clients and reinforce your client service and marketing messages.
Many find sharing an article more effective than a generic newsletter for several reasons:
Generic newsletters are not targeted. You don't have control of newsletter topics. So you often automatically send a newsletter to clients about a topic that is not necessarily aligned with your own client education or marketing goals.
Generic newsletters contain too much information. Because they can't be customized to a specific client's needs, generic newsletters tend to over-deliver with too much content for the typical reader.
Clients get overwhelmed. Everybody needs an information filter. If you're sending clients weekly or monthly newsletters, you're sending them around 60 to 250 items a year.
The Client Reprint advantage.
Client Reprints give you the opportunity to be selective about what you send clients and when they get it.
One article on a specific, relevant topic, accompanied by a post-it note or short email message will do an excellent job of reaching your clients and prospects, in ways that generic newsletters can't.
Questions?
We're glad to help. Call Horsesmouth's Member Support Team at
1-888-336-6884, Ext. 1